The worst thing about going abroad is that there are so many places to choose from!
The skill is to pick what's right for you and if you're reading this, you're on the right path to finding your perfect holiday destination.
Now, we're no holiday experts, but we've thoroughly researched five beach holidays that won't break the bank. These locations are some you may have forgotten about, or better yet, may not have known about at all!
Let's have a look, shall we?
Remember: Keep your eye on guidance and restrictions for where you want to travel. We've seen how quickly things can change, so it's best to keep on top of it.
Beach holidays that may have fallen off your radar
Split, Croatia
Agadir, Morocco
Malaga, Spain
Fuerteventura, Canary islands
Mellieha, Malta
We've looked into these beach destinations to give you a better idea of potential affordable destinations for you. For each location, we'll share:
The locations temperature
The price of a pint
Meal cost for 2
Estimate of an individual flight
Affordable hotel for two per night
The figures we provide for each destination are either an average or an estimate. Unfortunately, we cannot control the weather (otherwise Manchester wouldn't see as much rain!) and flights, hotels, etc are always fluctuating. We aim to give you a general idea of what to expect and we recommend you do some additional research and price investigation before committing.
With that disclaimer out of the way, let's have a look at some of our picks…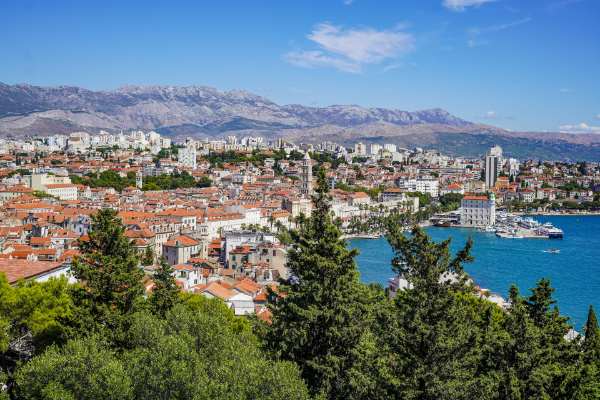 Split, Croatia
If you're looking to relax in the Mediterranean, then Split is ideal for you! This Croatian city is so chilled that they use the word 'Pomalo' as a greeting. Pomalo literally means take it easy, relax, no stress or no worries. This phrase represents the lifestyle and general state of mind of the people of Split.
Beach holiday
You'll find a range of beaches in and around Split. There're sandy, pebbly and even rocky spots next to the sea that you can enjoy.
Bačvice Beach is both a local and tourist favourite. It's convenient to get to because it's right in the city centre. This hot spot is also huge, having a capacity of about 10,000 beachgoers!
Local attractions
If you need luck in your life, try rubbing Gregory of Nin's big toe. Now, I know what you're thinking, but Gregory of Nin is a statue in the heart of Split near the city's famous Golden Gate. Local children are told that rubbing Gregory's big toe will grant their wishes.
If rubbing toes isn't for you, how about visiting the Diocletian Palace? Home to the Roman Emperor Diocletian as his retirement residence, the 1,700-year-old palace thrives with bars, restaurants and entertainment and is seen as the go-to place.
If you're curious to see how beautiful Split is, take a virtual tour of the city here. Or you can get a feel for the place in this video from New York Times.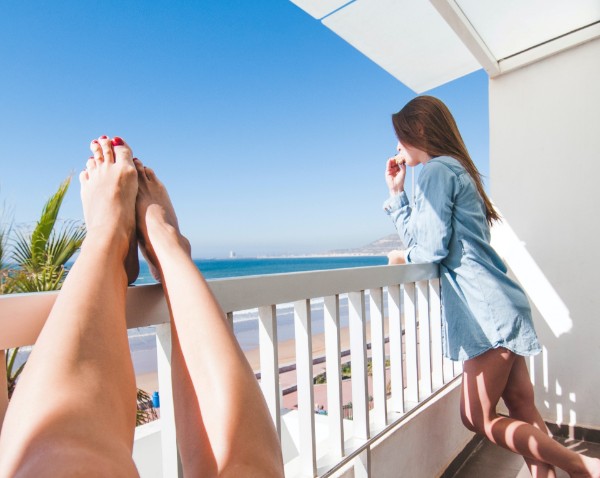 Agadir, Morocco
24°C
£2.40
£4.80
£140
£50
With a flight from as little as 4 hours from Manchester, you could be kicking back and relaxing in the sun in Agadir in no time. The City sits along Morocco's Southern Atlantic coast, so be prepared for great weather and fantastic beaches.
Beach holiday
Plage d'Agadir is the place to go for white golden sand beaches in Morocco. It's about 10km long and you'll have a beautiful view of the Mountain of Agadir.
It can be busy during the summer, but thanks to its size, you'll no doubt find a space to set up. There are also restaurants and cafes along the beach for when you get peckish.
If you're looking for beach activities, you can find surfing, jet skiing and parasailing. Or, you can go for a swim in the ocean for free.
Local attractions
If you're looking for a mix of great food, hotels, beaches and shopping, then Agadir will suit you nicely.
There are plenty of day trips to experience. You can go on safari adventures, explore Paradise island, and if you're feeling brave, you can visit Croco Parc, which is home to over 300 crocodiles. There's also more traditional Moroccan dancing or sandboarding on dunes to get your heart rate pumping – almost as much as the crocodiles!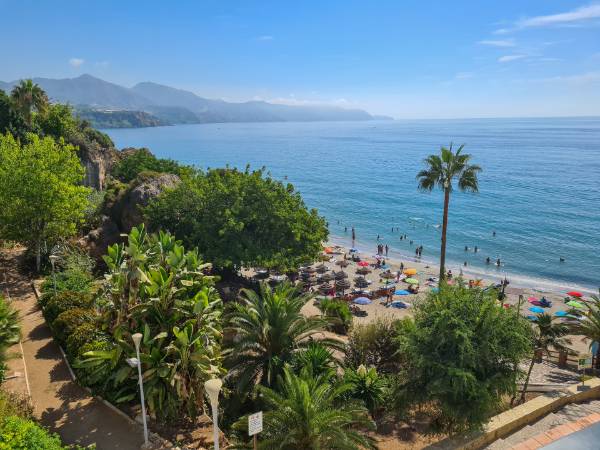 Malaga, Spain
Malaga is in Southern Spain and lies on the Costa del Sol of the Mediterranean. It's full of history and is one of the oldest cities in Europe. The city gets 300 days of warm sunshine each year, so a good banker if you need some sun in your life.
Beach holiday
If you're in the city centre, Playa La Malagueta is perfect. There are plenty of restaurants and bars down the promenade. However, Malaga has no shortage of beaches, the city has 15 in total and plenty more on the outskirts. If you're looking for quieter beaches then the likes of Playa Penon del Cuervo or Playa de el Palo could be right up your street.
Local attractions
Other than beautiful beaches, Malaga has some amazing attractions too. The famous artist Picasso was born in Malaga, which has helped the city become a favourite for art lovers and appreciators. Whether you're visiting the Picasso Museum itself or find more contemporary masterpieces at Centre Pompidou Malaga, you'll find plenty to enjoy.
If you're looking forward to dining in your shorts, Malaga's Old Town will be the place for you. It's the heart of the city. You'll find historic buildings, museums and plenty of cafes, restaurants and bars. It's walkable within a day, but you'll struggle to visit everything that interests you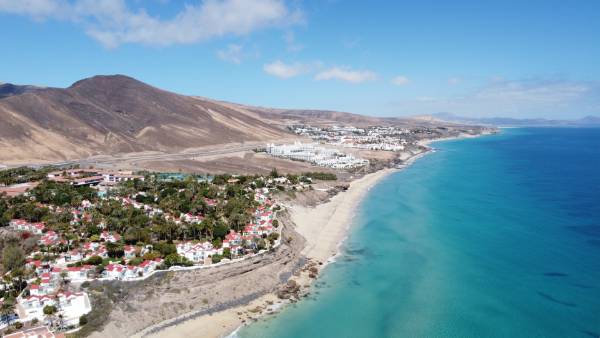 Fuerteventura, Canary Islands
22.4°C
£1.30
£17
£200
£60
Fuerteventura is the second largest of Spain's Canary Islands. It sits just 100km from the north coast of Africa, so you'll love to hear that it's warm all year round.
Beach holiday
If you have white sandy beaches in mind, Fuerteventura should be top of your list! Beaches are one of the top reasons holiday-goers decide to visit this destination and there's no surprise as to why that is.
You'll discover blue lagoons, miles of white sand and crystal-clear water. You'll think you're in paradise!
Local attractions
With beaches being a key attraction, you'll find water sports are popular in this beautiful resort. Not only that but you can be adventurous with off road buggy experiences and Jeep safaris. You'll easily get your steps in too with lots of hiking opportunities around the island.
Fuerteventura is perfect if you're looking for relaxation and nature. It's not known for its nightlife but has a number of restaurants and bars to spend your evenings.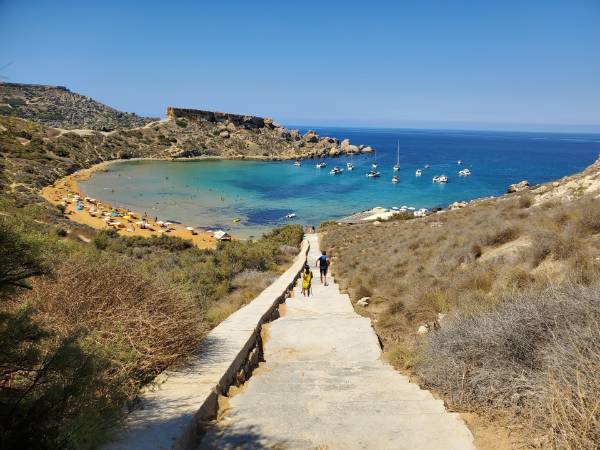 Mellieha, Malta
24°C
£2.40
£4.80
£140
£60
Mellieha is a quiet and relaxing village. It's the perfect place for a summer holiday with Malta's largest sandy beach on its doorstep. There're tonnes of activities and sightseeing to accommodate your visit.
Beach holiday
Mellieha Bay is the most popular beach and the largest sandy beach in Malta. Its shallow crystal-clear waters make it perfect for families with young children.
You've also got Paradise Bay, which as you can tell by the name, resembles a paradise! It's surrounded by high cliffs and has a view of the Gozo Island in the distance. There are a number of other bays located in and near the village too all with their own unique feel to them.
Local attractions
Close to the bays you'll find Watchtowers across the coast.
If you're looking for nightlife, it would be better to visit Saint Julian's. But if you want a quaint holiday, Mellieha will be right for you.
What the village lacks in nightlife, it makes up elsewhere. You can find Ghadira Nature Reserve just on the outskirts of Mellieha which is free, but donations are welcome. You can also book slots in the photography hide to capture once in a lifetime photos. Also, there is the Nature and History Park which is the largest on the Island.
Potentially a more obscure attraction is Popeye Village, the film set of the 1980s Musical 'Popeye'. You've also got the Mellieha Air Raid Shelter which is 500 metres long. The shelter has waxwork characters in various rooms showing how the Maltese took shelter during World War 2.
The bottom line
We've come to the end of the list! We hope it's helped you discover some new places you'd like to visit. If you need financial support to spread out the cost of your holiday, why not apply for an affordable loan? Click here to find out more.
Please note
Flights, hotels and temperature have all been based on the month of June 2022. For the hotel, this is a room for 2 people per night. Click the hyperlinks in the article and do some additional research to gather to get a better picture for your holiday.