Many of us would remember doing art when we were back in school. Staring intensely at a bowl of fruit, focusing on the lighting, its shadows and the complexity of it all – only to look down and see a wonky banana in a crooked bowl. At this point, we probably thought being an artist wasn't for us.
For Toubie, though, this wasn't the case. She's always had an artistic side and now uses her talent to bring people together. From painting murals to online creative classes, Toubie is making a difference in communities through the power of art!
Once an artist always an artist
Toubie has been an artist throughout her entire life. She's always loved to paint. Ever since she was a child in South Africa, she's always had that passion. Toubie developed her skills at Art College. During this time, she painted her first mural in the cellar of a pub.
Fast forward to 2003, Toubie is a mother and living in Edinburgh. At that time her daughter was in nursery which sparked her next project. Toubie asked for the opportunity to paint an outdoor mural for the nursery… and to Toubie's absolute delight, they accepted!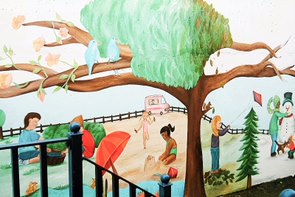 In our interview, Toubie said following her mural painting, the school offered a job to become the art teacher at the nursery. She described herself as 'stumbling' into the role. But, after speaking to Toubie and seeing her work, she was certainly being modest as her art and personality speak for themselves.
The nursery introduced Toubie to the combination of art and teaching. This collaboration was a new experience for Toubie and one she loved instantly. 
Finding the light through lockdown
Toubie now calls Manchester her home and has settled nicely with her three children. This is where she set up her credit union account and where we got to know her.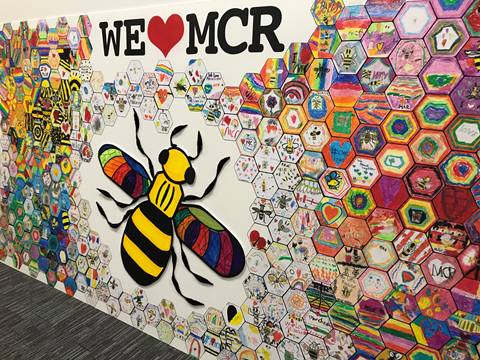 It is also where she started to work on her own projects. 'The Art Gap' is one that she brought to life in 2019. It was a children's after school art club. However, following COVID, it had to close.
Fortunately, Toubie being as proactive as she is didn't let Rona stop her teaching. In retaliation to lockdown, she started online classes over Zoom with vulnerable people.  
"I did some incredible work with children's charities and some refugee associations".
Toubie made her lessons accessible for everyone. Coffee, cinnamon, turmeric and paprika were all things students could find in the cupboard to use as paint. The outcome impressed Toubie, describing it to be "a really cool experience".
Some of Toubie's Zoom groups have had people from all over the world taking part. The Children's Rights charity that she is involved in had families connecting from America, Sweden and Bolivia – just to name a few.  
"It's such a nice feeling to be able to deliver something to these families all over the world".
Toubie's current projects
From managing an after-school art club in Salford to running workshops for people with mental health issues, Toubie provides a creative outlet for a range of people.
One group Toubie spoke about was a Royal Exchange Theatre project that provides a wellbeing session for women who feel isolated. She delivers an art lesson on WhatsApp for them to come together and feel connected. For these classes, students receive free art materials so they don't need to worry about getting their own supplies.  
On top of art for others, Toubie has personal focuses too. Toubie is behind three of the decorative frogs that are on Stockport's Gigantic Leap Frog Trail.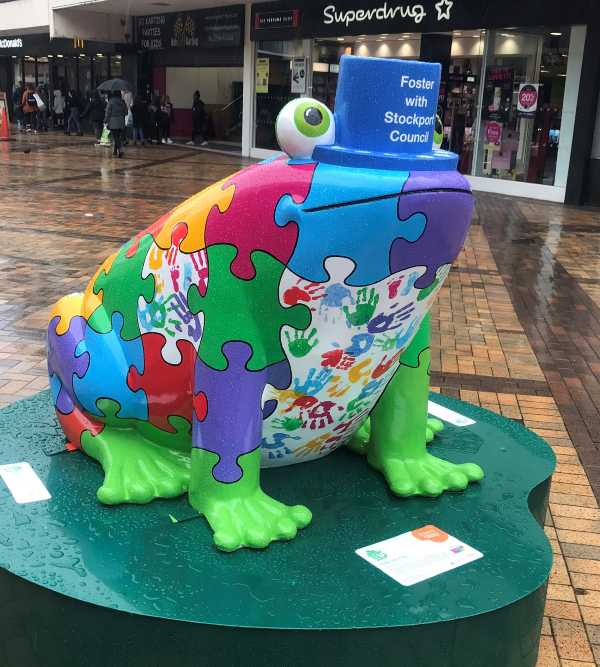 Another spinning pallet for Toubie is art dedicated to the environment – with a particular focus on plastic. 
"I'm very passionate about plastic packaging waste and the amount of it we use and throw away as consumers."
To battle against this, Toubie melts down single-use plastic onto canvases to create a lovely tactile effect.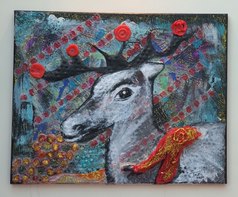 Toubie's current projects
Toubie's art adventures aren't stopping anytime soon with a jam-packed creative schedule ahead of her.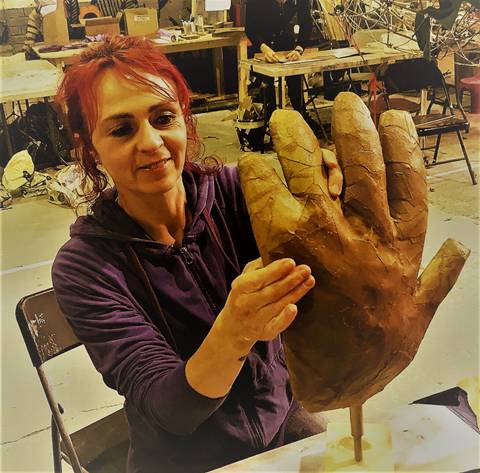 Toubie is always keen to put herself forward for projects and gets involved where she can. She's got murals in the pipeline with a recent commission that is 18 metres long!
Not only are new opportunities popping up, but Toubie also wants to continue with her classes too. It's here that she knows she can make a difference in people's lives through art.
"Helping people is the best part about what I'm doing – especially Zoom calls, seeing everyone hold up their artwork. I'm always blown away!"
Where to find more of Toubie